For our first new challenge of 2011 at
Creative Inspirations
we are being sponsored by our new monthly sponsor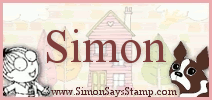 who are giving a $10 voucher to our lucky winner!
We are also lucky enough this week to have a second sponsor -
who will be sending our winner a stamp from their new Valentine's collection! So what do you have to do to win - easy just use
something new
on your project Papers, stamps, embellishments - anything as long as it's new. Here's your chance to use some of your Christmas goodies - what are you waiting for??
For my own card I used two new things, firstly a new Tilda image which I received as a Secret Santa gift and secondly my new Aquamarkers which Lynsey gave me for Christmas. I had wanted to try Aquamarkers for a while - I love my Promarkers and use them practically every day but I also love a watercolour effect and was keen to see what I could do with the new pens. I stamped my image twice and coloured one with Promarkers and one with Aquamarkers - what do you think? I wasn't sure which I liked the best but maybe I don't have to choose, they are both great pens and am just happy to have more to play with!
Promarkers
Aquamarkers
So here is my finished card, the papers are from Papermania, the flowers are a mix of Prima & Petaloo and the sentiment is Stampin Up.
Also entering the challenges at:
Crafty Sentiments
(who also have blog hop on the 6th to celebrate their new release)
- Anything goes
Catch the Bug
- Anything goes
Southern Girls
- Anything goes
Mark's Finest Paper
- Use something new
My Time to Craft
- Brand, spanking new
One Stop Craft
- New beginnings
Just Magnolia
- Anything goes